Emma Kenna
Main Instructor
Emma started her spin journey playing with poi way back in 2000! She discovered hooping in 2007 while she was studying for her PhD and realised quickly that all the poi tricks she knew could be translated into 2 hoop moves so her love of twin hooping started early. She hung up her lab coat in 2010 for the last time and took the leap into full time hooping. She has never looked back!
Emma is a hugely experienced teacher and is known internationally as a master of twin hoops specialising in off-body Twins. A key player in the growth of the outstanding Bristol Hoop community, Emma has had the opportunity to learn from and play with some of the world's leading twins innovators during her travels around the world. She has combined her teachings, own innovations and her previous poi experience to develop her own unique style and many twin hooping specific workshops. The combination of her high technical expertise, extensive teaching experience and enthusiasm for sharing is going to make TWEEK a learning experience you'll never forget.
Ina Hoopina
Hoop Instructor and Yoga instructor
Ina Hoopina's passion for Hoopdance started in 2010 and accompanied her in various ways. She taught herself most of the hoop tricks, started teaching Hoopdance in 2011 in Hannover and built up the Hannover Hoop community. Together with friends she runs the annual German Hoop Convention in Hannover since 2012 and makes contributions to the growth and network of Hoopdance in Germany. She is also the organisator of the annual HOOP! The Castle, a Hoop gathering running at sell out since October 2014.
Emma and Ina began 4-hoop partner hooping together in Summer 2014 but quickly advanced to coming up with their own moves. They are a good team and very much enjoy spreading the love of partner poi-hooping 🙂
Ina is a hugely talented teacher and will be on hand in classes.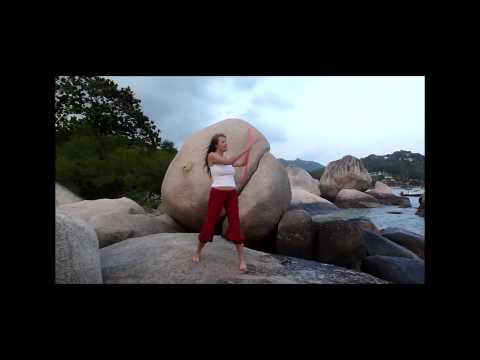 Ina will also be offering yoga 🙂
Jane Fondle
Warm ups and Cool downs
Choreographic Enthusiastic Officer of Hoops, Thighs & Buttocks, Jane Fondle is all about getting physical. Starting out as a star in her parent's lounge room, she then took it to the streets at age 7, surprising her neighbours by busking at their doorstep, singing and dancing "We built this city on rock and roll". The outer suburbs of Melbourne just weren't ready for this singing/dancing entrepreneur. Distraught her school was too pov to participate in the Rock Eisteddfod, as a teenager Fondle was forced to seek another outlet for dancing onstage in a fabulous costume and became a National Aerobics champion, competing for 3 years and teaching for 5. She then moved on to become the world Twister champion (true story!). Disaster struck when a bad g-tard incident in a fit of Flashdancing victory left her unable to walk for some time (story slightly embellished). Once rehabilitated she discovered hula hooping as a great way to work out in her lounge room while fleeing from societal shame. After 12 years of hooping she's feeling at peace with a movement medium based on thrusting the hips. Fondle has developed her own hooping style, combining 80's dance, aerobics, comedy and hula hooping…. and not once in her 18 years of teaching has she turned her back on her g-tard.
Fondle was everyone's highlight of Bali TWEEK 2015 so we had to have her back. Daily warm ups incorporating 80′s Dance, 90′s Hip-Hop Dance, Booty Dance, Hoop-Aerobics, Hoop-Hop, striking your tree pose with Voga, Twerking and LOTS of Hilarity, you'll be wishing you could Werq. It. Out! all the time.
To really get in the retro mood, we encourage you to dig out your old g-tard (g-string leotard), sweat bands, wide elastic belt, legwarmers, etc. You can wear whatever you like but we believe everything is more fun when you add fluoro and glitter.
Jewelz A Hoopz
Hooptation
Jewelz escaped from a life as a travelling bum with no other reason to travel than to experience the people, the food and the places. She first met the hula-hoop in 2006, apparently not interested in it during her childhood years. In 2006/7 Jewelz and her hoops travelled around Oz ushering with Cirque du Soleil. In 2007/8 she introduced her "hoops" to overseas travel and on that trip seeds were planted for a long and steady relationship. She attempts to master the piece/s of plastic, which she has found have infinite possibilities, so the mastering journey continues. She practices traditional circus, hoop dance, creative movement & play plus thinking outside of the hoop.
Jewelz and her hoops have taught and performed to all ages from 2yo to 80yo; birthday parties, hen's parties, weddings, pre-schools, primary schools, high schools, after-school care, vacation care, youth centres, women's retreats, yoga retreats, festivals, people with disabilities and the disadvantaged.
She has trained with well-known Australian and international hula hoopists. Jewelz has received inspiration and training through classes and workshops in traditional circus, technical circus skills, hoop dance, movement & flow, physical theatre, a dabbling of clowning, choreography, various dance forms, yoga and laughter yoga.
Jewelz will be leading the morning Hooptation – Using breath & the hoop to create a moving mediation